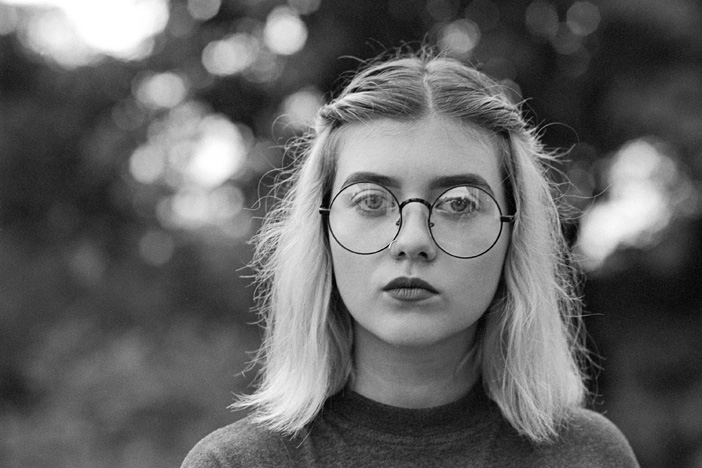 Varvara, 16 years old, (please look also here)
»I went to the drama school very often during the last two years, but unfortunately there were no performances and so I stopped it. After that I attend a music school besides my school and I was quickly admitted to the first class. Now I'm concentrating on singing: classic, jazz and R&B.
I also made a trip to Sievierodonetsk in the meantime, where I had never been before. I saw a lot of mine dumps on this trip, like in my home in Luhansk and Snezhnoe.
This sight was so familiar that I had to cry because I missed my home so much. On the journey to Sievierodonetsk I noticed many military checkpoints and destroyed buildings and in Kramatorsk I saw Russian inscriptions on buildings covered with Ukrainian flags.
My grandma lives in the DNR* region and visits us every half year in Kiev, and she is very close to me and I'm happy when she is with me.
My relatives stayed in the DNR region as well, because they have a job there or own a flat. They've got used to shootings there. Shelters were installed in my former school, so that the children can hide in a safe place. In the past I had dancing lessons in these rooms.
Actually, I don't want to live there any more, hence I planned my life 10 years ahead. But I really would like to visit my friends and relatives, whom I have not seen for three years.
I also found two friends in Kiev who came from my former district and when we meet, we remember and talk about how the life in Kiev has changed us. The people in Kiev don't really understand my feelings and can not understand me being sad.
When I attended a new school in Kiev, I was really sad in the beginning. They called me a separatist and that was very unfriendly, because if I were a separatist, I would never have come to Kiev. But somehow that stopped and the others forgot that I came from somewhere else and got used to me.
I had my own room in Snezhnoe, which was arranged in the Chinese style and now I don't have something like that and I miss it pretty much. I miss my wallpapers, my books and toys, sometimes my grandma brings me something from my books or toys to Kiev.
I would like to say that you should not joke about a child who comes from elsewhere and is new in a city, because it really hits the children and they can close off.
I'm glad that my present school did not require any earlier testimony, as I had no papers when I arrived here.
Above all, I'm annoyed about many landlords who don't rent their flats to displaced people because they believe that you don't have enough money or a job to pay the rent. After having finished school I would like to attend a drama school, because I want to become an actress. «

* DNR: Donezkaja narodnaja respublika, the Donetsk People's Republic is a self-proclaimed state in the Donetsk Oblast of Ukraine.
<<
>>